The lab has a very busy travel itinerary this month! Phill has just returned from a successful meeting with Conservation International in Singapore to discuss the succession of the Centre for Applied Conservation Science. From 1 July 2018, Phill will succeed directorship of the Centre for Applied Conservation Science (established in 2016). Phill intends to develop the Centre as a research hub for global conservation of biodiversity, and to continue to fulfil the Centre's mission to foster and coalesce engagements between The University of Adelaide and Conservation International.
Phill and Sarah have been to Cambodia this month for the 'Deep Water, Deep Jungle' study tour, where students were immersed in a 13 night experience researching tropical conservation ecology and environmental crime in South Eastern Asia.
Tom and Adam have been to Wellington, New Zealand to attend the Society for Conservation Biology 5th Oceania Congress, and Aurelie has just completed a successful data collection trip to the Australian National Wildlife Collection – CSIRO in Canberra for her honours project on variation in dingo skeletal morphology. Aurelie also recently published a paper in Transactions of the Royal Society of South Australia on Reproductive ethology of the Fijian predator-inquiline wasp Pseudofoenus extraneus.
We are excited to share our new paper 'Effects of sampling effort on biodiversity patterns estimated from environmental DNA metabarcoding surveys' with our colleague Thomas Prowse.
Katie has been busy working on her honours project developing procedures to accurately determine the time, relative to lifespan, that wildlife specimens have either: (i) been in Australia; or (ii) at-large in the environment. To date she has obtained nine red-eared slider turtles of various provenance from the Australia Museum and Queensland Museum. She has prepared bone and scute samples from each of these individuals and has conducted preliminary isotopic and ablation laser analyses. Two more individuals that were recently seized by PIRSA from an Adelaide backyard are currently being prepared for sampling.
Phill hosted a Q&A event on 'Dealing with and responding to public and political scepticism in science' for the BSc Advanced first-year course. The event was a great success and we would like to sincerely thank all of the panellists, Professor Gus Nathan, Lucy Sutherland, Robert Simms, Dr Joe Milton and Prof Robert McLaughlin. Phill also hosted the BSc Advanced second-year student research review symposium event.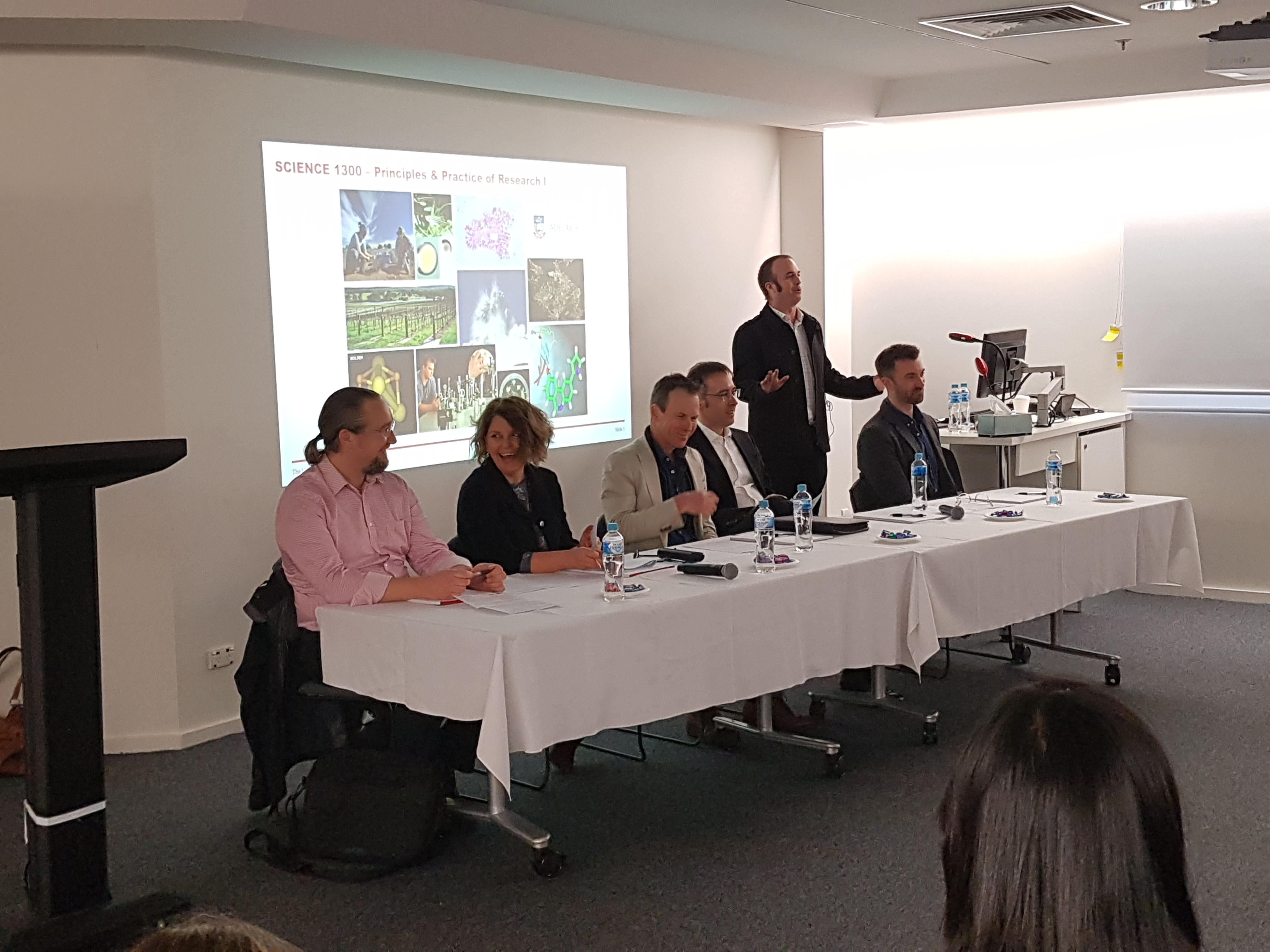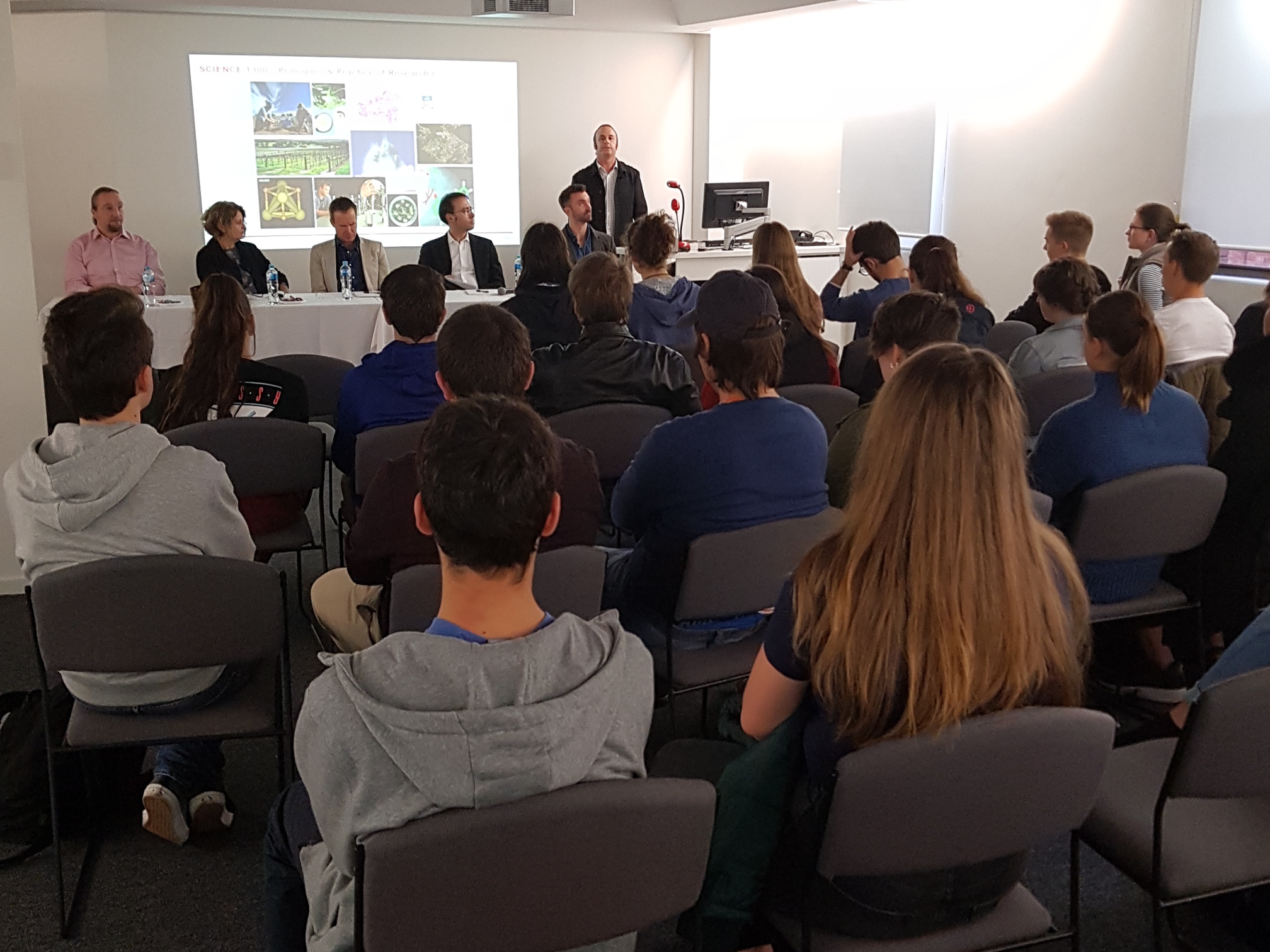 We congratulate Sarah, Jack and Bowie for their three-minute thesis presentations in the School of Biological Sciences Postgraduate Symposium event.
We would like to thank Manuela Fischer who came from the University of Melbourne to collaborate on Jacks dingo resource selection chapter, and we look forward to welcoming more visitors to the lab in the coming months.